2017 NWACS Annual Fall Conference
Did you attend the 2017 NWACS Annual Fall Conference? We would love to hear your thoughts! Please take our brief survey or send us a quick email to share your feedback and help us provide educational opportunities you find useful.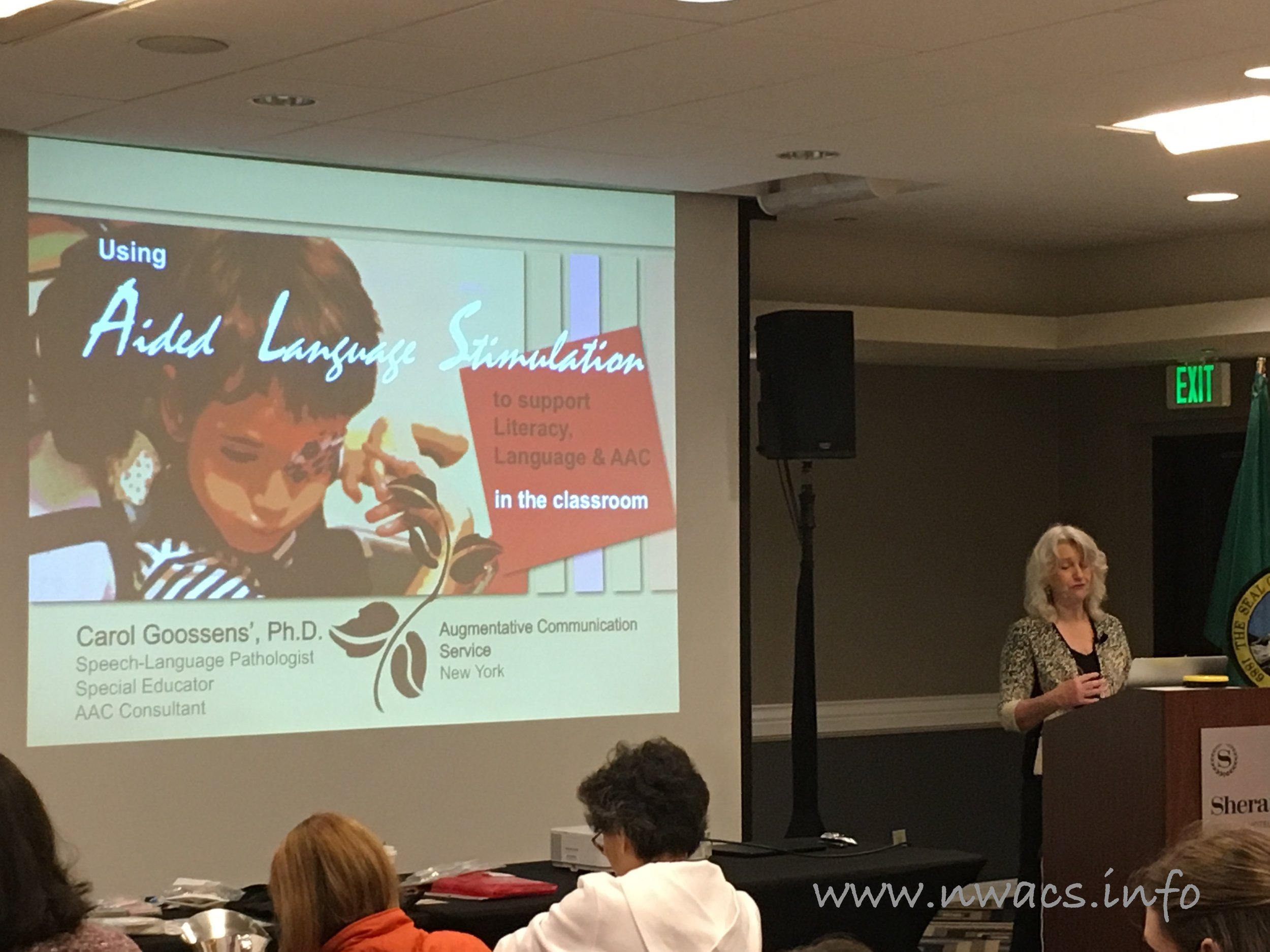 ~ REGISTRATION NOW CLOSED ~
Please Note: There are no more seats available for this year's conference.
Date: October 21, 2017
8:00 - 8:30am Registration / 8:30am - 4:00pm Workshop; 12-1pm Lunch (provided)
Where: Sheraton Bellevue Hotel in Bellevue, WA
Speaker: We are pleased to announce that Carol Goossens', PhD, SLP will be venturing to the Pacific Northwest as our speaker for the 2017 NWACS Annual Fall Conference! Dr. Goossens' is a certified speech-language pathologist currently working as an AAC consultant. She is known both nationally and internationally for her ability to provide 'trench-proven' strategies for implementing AAC within a classroom setting.
Title: Using Aided Language Stimulation to Promote Literacy, Language, & AAC
About: This session targets clinical strategies for using scripted and unscripted activities to address communication goals within a group format in a variety of classroom settings. Aided language stimulation (ALgS) is a teaching strategy in which the facilitator (teacher, classroom assistant, parent, SLP, OT, Vision teacher, PT) highlights symbols (tangible objects, photos, picture symbols, printed words) in conjunction with his/her ongoing verbal language stimulation. This approach believes children with Complex Communication Needs (CCN) must be inundated with seeing their symbol set being used frequently and interactively throughout the day. This session highlights many classroom-based strategies that have been successfully used with a broad spectrum of students (developmental delay, autism, cerebral palsy, visually impaired, hearing impaired and typically developing), being served in a wide range of classrooms (Regular Ed, Special Ed, Blended, ABA classrooms). Considerable attention will be given to group intervention, as well as to merging the SLP's communication goals with the Teacher's academic goals and developing school-wide systems that nurture collaboration between teachers, parents and therapists. Both low tech and high tech options will be addressed using numerous classroom videos that highlight the strategies discussed.
Learning Outcomes: Participants will:
Describe the three crucial components that are the hallmark of Universal Design for Learning Philosophy.
Define the term Aided Language Stimulation (ALgS) and utilize at least three guidelines for conducting ALgS.
Define the term Primary-Secondary Facilitator Model, and learn the distinct roles of the Primary and the Secondary Facilitator when conducting group training within the classroom.
Define the Core + Supplemental / Core + Fringe Approach to vocabulary management when using either non-electronic or dynamic communication pages to model language and create communicative opportunities.
Discover the four zones for conducting ALgS within a group format using true group format rather than multiple one-on-one group activities
Identify the main differences between closed generative and openly generative communication pages.
Continuing Education Credit:
6 OSPI CECH ($12.00 payable at door by CHECK ONLY)
Verification of Attendance certificates will be available the day of conference and can be used for ASHA contact hours